It's been a long time coming.
Actually, it's been 23 months, 1 day and 12 hours for the SeriousMD team.
Definitely a long time just to develop a single app that serves a specific niche market.
Why did it take so long, anyway?
Well, we went out of our way to test the user interface, test our whole concept with real users, tweak the features that doctors in the Philippines would actually want and most importantly, design a user interface that would fit the workflow of the Filipino doctor.
Hey, it's here so there's no need to dwell on how long it took, right?
We focused on quality since we wanted to deliver the best experience for our users.
Nothing less than awesome.
If that isn't enough reason, then why would we even bother?
We've come a long way since our alpha version. We added a lot of new features and I'll be explaining some of the core benefits here in this post.
Before continuing, if you haven't downloaded it yet, please do so by clicking here or load http://bit.ly/seriousmd on your iPad's Safari browser. It will automatically open in the AppStore.
—
A Quick Preview For You Sexy Doctors Out There
We're new and chances are, you haven't seen our app yet because we haven't had the chance to connect yet.
If the thought of having a patient management app, going "paperless" and being more productive with your medical practice excites you but you feel like you need that extra nudge to get you to move and actually download it, then here's a quick preview for you.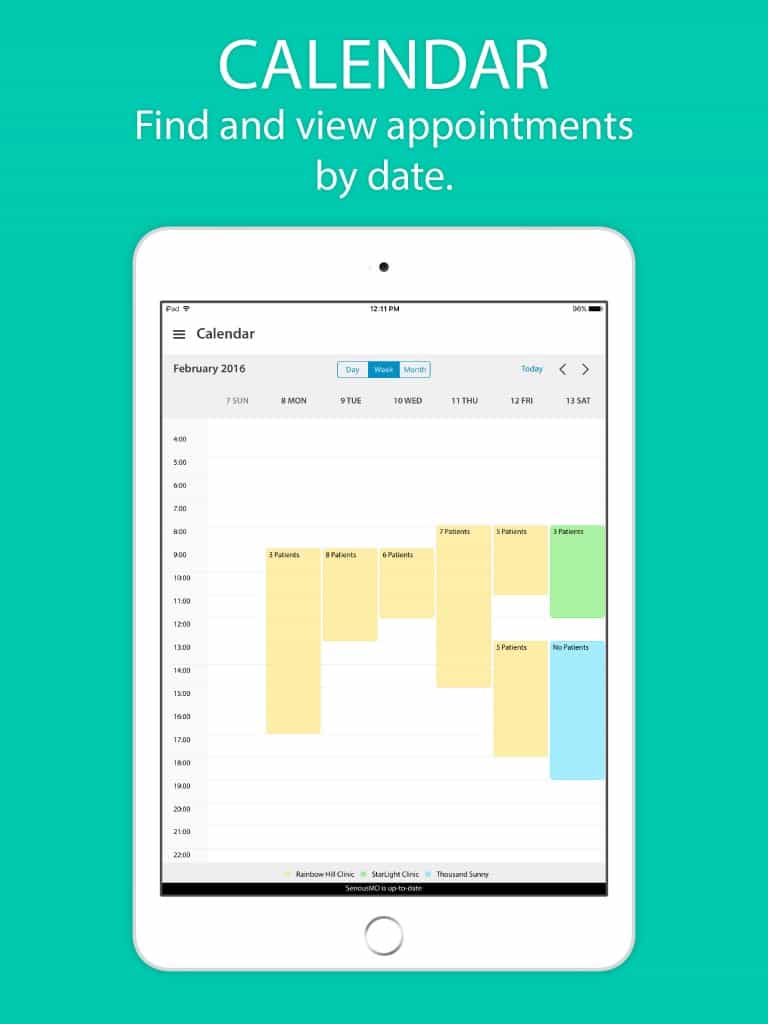 All Your Clinic Management Needs, In One Glance
We know you have a lot of places to be. You are busy. We get that.
It's why we built SeriousMD Doctors to fit the Filipino doctor's style and workflow.
Manage your schedule for all your clinics. Know where you need to be on that time of the day.
In one glance, you can see how many patients are needing your attention and to top it all off, you'll know who're actually waiting for you.
A well-organized schedule means more time for your own activities, guilt-free.
All Your Patient Management Needs, From Anywhere
You can store your patient profiles, put in private notes you have about their consultation with you as well as review their past medical records.
You have the flexibility to add notes any way you want with our built-in templates. Have a request? Send it to us.
Need to share it? Send it to the app you want to. Need to email it? Just a quick tap! Print it? Sure you can! Everything you need is here.
At the end of the day, powered with all the data you need about your patients in the palm of your hand, you will serve more clients, save time, be more efficient, avoid misdiagnosis, get more business and most importantly, it will improve doctor-patient relationships.
It's a Win-Win.
Secure Data With Backups
Our servers are secure and the data are encrypted. We have regular backups for all your databases, so nothing really gets lost as long as they are synced to our servers.
Lose your iPad? Don't worry, using Apple's security technology will enable you to wipe the device clean. You can then access your exact same data on another device, worry free.
Works Offline And Syncs When You Are Online
SeriousMD Doctors is built to run both offline and online. Want to sync today's consultations later in the day? Sure you can.
Does your secretary need to organize your queue because of some issues with a patient's schedule? Go ahead because it will reflect to your device the moment she syncs online.
Have more than 2 devices? Give it a try and see the magic of syncing technology!
How about if you need to access it through your computer because you left your device?
Well, our web version is now HERE! Just login using your browser and you'll see your data on your computer screen just like how you'd enjoy it on your iPad.
Highly Intuitive Design and Easy To Use
A lot of Filipino doctors had their own clinic software built and it looks, feels and works in a clunky manner.
With our app, there's no need to worry about your staff not being able to understand the software. You'll even enjoy teaching them on how to use it!
Want to move over your data from your old system to the SeriousMD™ Doctors? It's easy, we have a bulk importer that your staff can handle and easily do for you.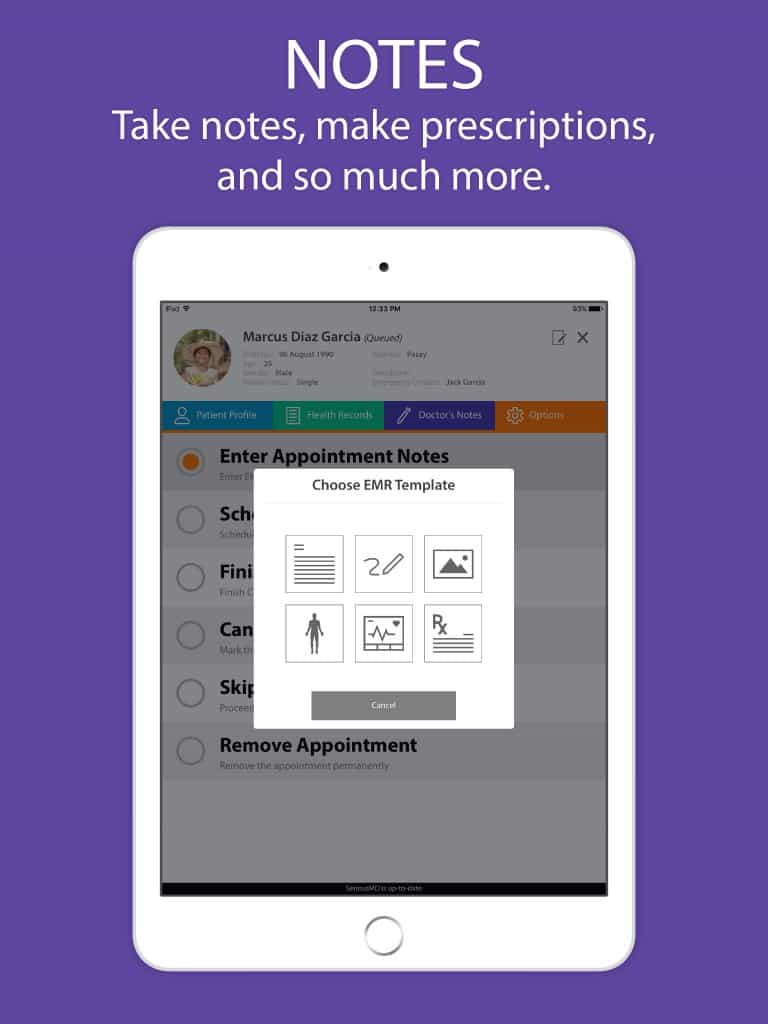 Going Paperless?
We all have this dream of going paperless but we have to be honest, the medical industry in the Philippines is still very into using paper.
But you know what? We've come really close to making your whole practice go paperless.
One of our goals with SeriousMD Doctors is to help lessen the paperwork needed in the medical sector. There's a ton of wasted paper each year and you probably noticed that you use a lot more paper than you should each day.
The app helps you go paperless with patient index cards, your notes, scheduling dates, sharing notes to patients and even knowing who's next in line.
We know it's not possible to go completely paperless because you need to give out prescriptions and such, so we added a way for you to share digitally for your patients to print it out if they want to or you can even print it out wirelessly in your clinic.
In that way, we lessen the need for paper and we don't have to kill any trees unnecessarily.
—
What Else are Left in the Pipeline? Some Teasers, Maybe?
We are currently creating new features that some of our awesome beta doctors already pitched to us, such as landscape mode, calculators, SOAP notes, custom templates, an online version (which is currently live but still being improved as we speak) and even a billing feature.
Once the website search function and directory is ready, you'll be able to list your clinic online to reach even more people. Patients will be able to book online and they can even manage their own health records. It's a whole ecosystem.
To be honest, we have a lot of things to add, test and create in the future BUT we want to focus first on giving YOU the best experience possible. We'll post about our Roadmap/Updates here.
No software is perfect right off the bat.
With your help, we can further improve the app, the design and the basic things you need to run your practice.
The end goal for the SeriousMD Doctors app is to be loved by Filipino doctors. We want the app the be loved and raved about simple because we also put in a lot of work and love into creating it.
We really hope that you see all the fruits of what we do inside the app as you use it more and more, each and everyday.
When we said you can manage your whole practice in one app, we meant it.
Download it, use it, see for yourself. Feedbacks? We're always here for you.
—
If you like SeriousMD Doctors enough, we only ask 3 favours from you:
Please share & ask your friends (who are also doctors) to download and use it. Use this shortcut link – (http://bit.ly/seriousmd)
Give us a quick rating in the Apple App Store (preferably a great one) for each update we release because it resets. A quick rating from you would help us a ton, so we can continue to make it better for you.
Please talk to us. Send us feedback, so we can further improve the app.
If you are already using the SeriousMD Doctors app, please send us your feedbacks. What you like about it, what you don't like about it, your note templates and what other things you'd like to see inside the app.
You can easily drop us a feedback within the app or you can send us a message through the website. Either method is fine. Rest assured, we appreciate any feedback we can get from you and we will read each one.
—
Our Goals, Our Culture, Our Dream
We're a small, agile team with a really BIG dream. A ridiculously BIG dream.
We want SeriousMD to be the best. The most used and the most loved medical service in the Philippines.
It's going to be a long road and things will only get harder from hereon out.
We do have some breaks here and there, but there's really no time to rest.
Like any startup, it's going to take a lot of work.
But is it worth it?
Hell, yeah.
Jump in and join us in this journey. We're going to make it worthwhile for you.
Download SeriousMD Doctors today on your iPad! 
---
Help Us Grow
Do you know consultants, doctors or dentists with their own clinics?
If you want to recommend us to them, please ask them to sign up here or download the app using this URL (http://bit.ly/seriousmd)
A quick SMS/Viber/WhatsApp/FB message/Email can go a long way. We'll be able to fix things faster and identify important things that will make your life even easier when we have more users using SeriousMD Doctors. Oh, and we'll be eternally grateful. 
You can use this page to easily share on Social Media, as well.
SeriousMD will dramatically improve their daily productivity and manage their practice even better. That's for sure and they'll most likely thank you for telling them about SeriousMD.