If you logged in today using the web app, you might have noticed a subtle change in the interface. Sort of subtle.
We've had this in the works for a while now because of multiple reasons that I'll be explaining below.
All New Design
If you are using the app on your computer, you will definitely notice the new change. We have also reworked certain parts of the app to lessen clicks so you can get your work done faster.
For example, when adding a prescription, you now automatically see your favorite list first rather than starting with a blank form. The re-prescribe button was also reworked a bit and it will show you the past 5 prescriptions you made, so if you prescribe maintenance medicines often, all you have to do is click once and the whole list of medicines will get added.
Appointments View
We've been testing the Appointments View with some doctors for the past 4 months.
It's a combination of the Queue list and the Calendar. This way, you can easily switch between clinic queues, it changes based on your schedule and you can check your calendar, all in one screen.
Mobile Views
This is probably the biggest change in the web app. One of the main reasons why we dedicated a full release for this is because we needed to make the app usable when on a mobile device, especially on Android devices.
With this release, Android users can now access and use SeriousMD wherever they are, whenever they need to.
Once you login using your mobile phone, you'll see shortcuts, an all new billing design and more! Whip out your Android phones and go check it out!
Reports
You can find the Reports module in the My Account area.
This is our initial release for "practice analytics" so you can have an overview of your practice which will help you grow it further. Eventually, you'll be able to generate reports about your patients.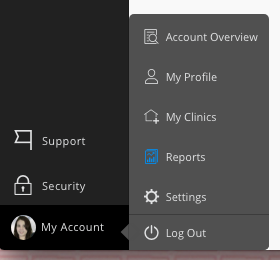 Shared Secretary View
Are you sharing a clinic with other doctors but have a single secretary? You and other doctors can invite your secretary now and with the new Shared Secretary view, it will be really easy to switch between doctors, while still keeping your data private.
SMS Credits
Our quest of decreasing patient no-shows continues. We've officially gone out of beta for the patient reminders and now you are able to purchase more credits for your account. Case study coming soon.
Future Releases
Lastly, much like what we did with the recent iOS app, the number 1 reason for this release is to allow us to have more flexibility to be able to create and release new features faster. We're preparing for the long haul, so with a major update like this, it's not all about the design you see in front.
---
Just in case, please clear your cache to fully see the new changes.
That's it for now, but there's more coming in the next couple of weeks. iPad billing, the first version of the iPhone and a couple secret ones. Let us know what you think!