The new version of SeriousMD Doctors (1.2) has been released in the Apple App Store!
We're preparing for a big release in version 1.3 and 1.4, so we needed to polish up what's available now to make you love SeriousMD Doctors even more.
The companion web app also reflects all the latest changes on the iPad app.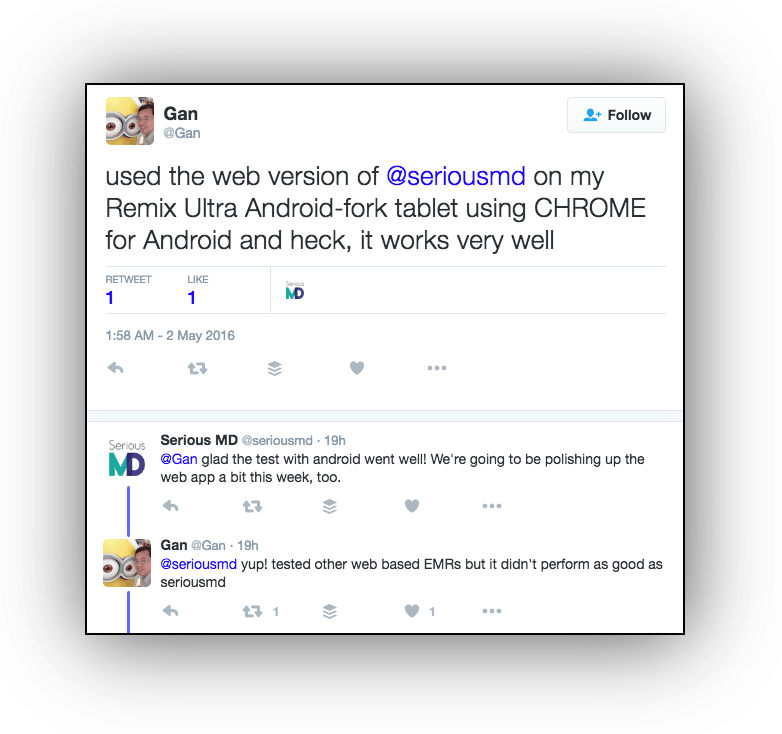 We got some awesome feedback from all of our dear users and we're working hard to implement them. Most of the minor things that were requested we're already included in 1.2, and if it's not, then 1.3 will have them.
What's New in Version 1.2?
1. Queue Options will now act as a checklist
SeriousMD Doctors is all about process and organization. Once you are done adding your notes, you'll see a check mark. Once you are done with scheduling the next appointment, you'll see another check mark and once you are done with the consultation, just tap Finish Checkup for the final check mark. Going through your queue is now easier (& prettier) than ever!
2. Better Previews. All in One Glance
You will now see the complete date of when your next schedule with the patient is. You will also see the clinic they are assigned to. It's now easy to see everything, in one glance.
3. All New Pop Up Rescheduling Calendar
Rescheduling an appointment is now easier with the new pop-over calendar. You can easily see your whole month while knowing when and where you will be available. You can select the clinic you want to assign them to, as well.
4. A Smarter Create Note Button
Only patients in the queue will be able to get "appointment notes" so we put a Create Note button to speed up the process of adding the patient to the queue first before being able to add a note.
The "Create Note" button will now detect if the patient is already in the queue and will not ask you to add them to the queue again.
5. Easier to Email Notes
Automatically pre-populate your subject field when you send your note through email.
6. Better Prescriptions
The Prescription template has been updated to a better format. Selections are more streamlined. You can now also see your PRC number there. You also have the option of adding your S2 and PTR numbers after you print it out.
S2 and PTR number fields are currently not in your profile but will be added in version 1.3. It will then show automatically when you print out your prescription.
7. Better Patient Profile
The patient profile now has a dropdown to see more information quickly without leaving the page. Just tap the arrow on the right to show more information. In the next version, you will be able to add your own private notes about this patient.
8. Better Images
Compression for images has been drastically improved. You can now save your images and almost not see the compression.
9. Others
The clinic form will now show required fields.
We also got a wholly better registration form.
We fixed an issue encountered by new signups that caused a specific crash.
We also fixed a Timezone related issue.
Health Records: As requested, previously required fields are now optional.
---
That's it for this version.
We're already tweaking and adding more for 1.3 which should be ready before the end of May.
We're hard at work on designing and programming SOAP notes and other BIG things that you asked for. They will start to show up on Version 1.4.
Like us on Facebook, Tweet us on Twitter and please help us share the word to your friends and peers. You can share the app to your friends by using the Invite area in your SeriousMD app Dashboard.
If you are happy with SeriousMD Doctors so far, please drop by the App Store and give us a 5 star rating. A simple matter like this goes a long way in helping us get more users and it'll help our team improve the app even further for you.
Until then! Just drop us a message if you have feedbacks and again, please invite your friends to start using SeriousMD Doctors!