We always get asked about security and privacy. It's a valid question and you have the right to know about what we do to protect your data. We are FULLY committed to bringing you the most secure medical platform in the world, that is why we created a full list of technology used behind SeriousMD and we are proud to bolster it even more through the use of the latest technology.
Your trust in our platform is crucial and we want to show you that we value that trust.
We are releasing Version 1.8 in 2 parts.
Part 1 will be released for the Web app on Feb 27, 2017. Part 2 will be released in March, 2017 for iOS.
What's included in Part 1?
2 Factor Authentication
Two-factor authentication works as an extra step in the login process, basically, a second security layer, that will reconfirm your identity. It's main purpose is to make it even harder for somebody that wants to access your account and reduce fraud risks.
Without 2 Factor authentication, you just enter in your username and password, and then you're done. The password is your single factor of authentication.
The second factor adds in an extra later of security for you.
This is completely optional, but it's an international standard that's used by the biggest platforms out there.
You'll need to download an extra app to make this work.
Google Authenticator for Android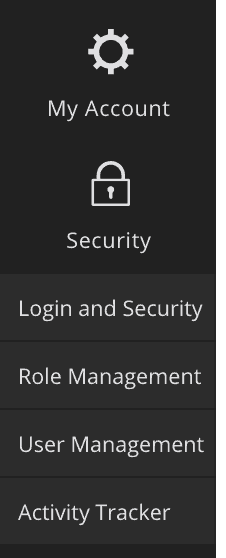 Go to the new "Security" menu
Click on "Login and Security"
Turn on 2 Factor Authentication and a popup will show up.
Use the app you downloaded and scan the QR code.
It will show you a code for a limited time.
Take that 6 digit number and enter it to confirm activation of the 2 Factor Authentication feature
You can turn on "Remember Browser" if you want the authentication to remember the specific computer you are using.
Accounts Creation (Role Management and User Management)
The biggest part of this update and probably the most anticipated. With this feature, you'll now be able to create sub-accounts for your staff. No more sharing the same account and worrying about what they can and cannot do.
Start off by going to Security and click on Role Management.
You will see these 3 roles by default.
Admin
Secretary
Nurse
By default, we already have something set up that you can use immediately but we know each practice is different, so you can edit the access for the roles.
At the top right, you will see an edit button. Click that and you will see checkboxes that you can use to allow or disallow certain features or areas of the app.
Once you are done, just hit the Save button.
Now, it's time to create the accounts.
Click on User Management (Under the Security menu)
At the top right, click on the + icon
Enter the email and select the role.
Hit the invite button
That's it! Your staff will just need to check their email, press the button in that email and create an account.
Note: You can remove accounts anytime you wish.
Activity Tracker
Now, since we are all about security and giving you full control of your practice, we included an activity tracker.
It tracks every action taken by your staff inside the app, so you'll have peace of mind and know that you can always check up on them to see what they did or who made the mistake.
It updates on it's own. You won't have to do anything else.
Other Improvements:
We released an all new registration form. Doctors you invite will have a better experience signing up and with less fields to fill up.
There's a new tutorial and on-boarding process that new signups can go through to quickly understand what the app can do. New tutorials will be added over time.
Health Records: You can now upload multiple images and crop each image.
Doctors Notes: You now have different "View" options. A new "List View" and a new "Prescription View" to make your reviews more efficient than ever.
The SeriousMD team worked tirelessly over the past months to bring you this update.
Please continue to support us and please continue to invite your friends to join SeriousMD.
Just hit the Invite button on your dashboard and share your link on Facebook. We have big features coming out, so the more friends and colleagues you have using SeriousMD Doctors, the better it is for you and your patients.