World Mental Health Day is a fairly young celebration—but then, respect for mental health is also fairly young in the mainstream. The first time the occasion was observed was in 1992, thanks to the efforts of the World Federation for Mental Health (WFMH).
In spite of all the World Mental Health Days since then, however, mental health continues to take a backseat to its physical sibling. Professor Gabriel Ivbijaro, the current WFMH president, has often noted the insufficient interest and investment in mental health to this day.
In his introduction for the WFMH's 2016 report, Ivbijaro also observed the urgency of addressing this problem. Among the many reasons given were the ever-rising number of persons affected by depression and the interaction between mental and physical health on overall well-being.
Beyond the individual aspect are larger, communal issues. Suicide, for instance, is a largely preventable problem that takes a life every 40 seconds around the world. And mental ailments have a very tangible effect on something valued by even those who think themselves least concerned: the economy.
Money and Madness
The Philippines is just one of the many countries where mental illness tends to be stigmatized. Very often, ailments of this type are lumped under the category of "madness". Given the obviously negative overtones of the term, most people are understandably reluctant to admit to mental issues—whether for themselves or their loved ones.
This prejudice partly explains the serious disparity in mental and physical health investment here. Even in our geopolitical region, our mental health services compare poorly. Janssen Asia Pacific's commissioned report by the Economist Intelligence Unit confirms this.
The report, titled the Asia Pacific Mental Health Integration Index, rated and ranked the effectiveness of mental health policies and services in 15 Asia-Pacific countries. The Philippines ranked twelfth—scoring a mere 25.5 compared to top-scorer New Zealand's 94.7. The only countries scoring below us were Vietnam, Indonesia, and Pakistan.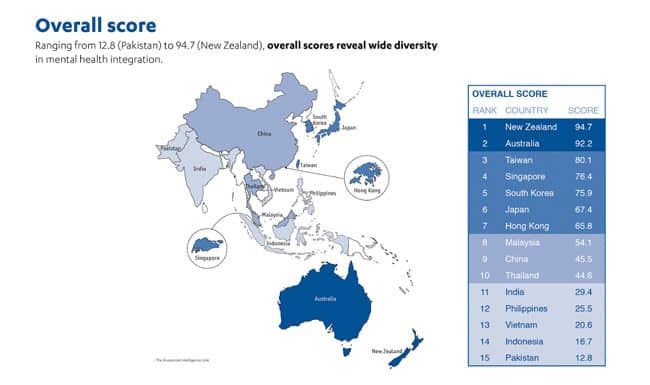 The report underscored the need for improvements and greater awareness in this area of medicine. It also reminded people of the fact that mental illness can be a burden to the economy. Even the top-scoring nation in the list, New Zealand, could attribute a 3.5% loss of GDP to it. What more then for countries like Pakistan (scoring only 12.8 on the index)?
The economic impact of mental illness should give most authorities pause. Even in the UK, for instance, an estimated £26 billion is lost per year thanks to untreated mental illness in the workforce. In the US, estimates put the yearly productivity loss value at $105 billion (with the loss being valued at $200 billion in terms of yearly earnings). The global economy pays the price too, to the tune of $1 trillion a year.
More than ever, this clarifies that everyone has an interest in mental health policies. Governments should pay attention, of course, yet this is not a burden to be shouldered by them alone. While better public services should be in place for the promotion of mental health, private organizations should do their part too. Some fairly simple improvements in mental health management at the workplace have been estimated to reduce the aforementioned yearly loss by £8 billion, for instance.
Now imagine how much more we could shave off it were both public and private groups—as well as the members of the workforce themselves—to be more invested in national mental health policies and programs. We have all known for some time now that a country's health has an influence on its prosperity. Why should its mental health not have the same influence its physical health does?
Mental Health Day for 2016
In previous years, World Mental Health Day had the themes "dignity in mental health" and "living with schizophrenia". This year's theme is psychological first aid. While notable efforts have been made in countries like Australia and England on this subject, we have quite a way to go yet.
Not for lack of trying, however: two students from the University of the Philippines have created a mobile app designed to help student users get mental first aid. The app is community-powered in the sense that peers provide the aid or counseling users need. Called PsychUP, the app was the thesis project of engineering students Chad Errol Booc and Chara Mae San Diego.
This may only be the beginning, but investment from the youth is a good start. Current Health Secretary Dr Paulyn Rosell-Ubial, while she has lamented the stigma on mental health in the country, has nevertheless stated that Filipinos are arguably well-prepared for supplying psychological first aid when called to it, owing to the culture's emphasis on care. Dr Ubial has also made mental health a priority for her tenure.
@DOHgovph Sec @Dok_Pau: We need a mental health program that shows compassion; that shows care. #MentalHealthPH

— MentalHealthPH (@mentalhealth_ph) October 13, 2016
All those who wish to support World Mental Health Day and Dr Ubial can learn more by following her and hashtags like #MentalHealthPH on Twitter. (We also cover the topic regularly on SeriousMD, so you can follow us too.) You can also try to attend symposia on various mental health topics—many LGUs help to organize them around Mental Health Week in the Philippines, usually at venues like public schools.
Ultimately, keeping an open mind is vital here, given that there is a pre-existing stigma to counteract. It may require greater personal openness simply to notice the signs of mental illness in others too. After all, as C. S. Lewis (the writer of the Chronicles of Narnia) put it, "Mental pain is less dramatic than physical pain, but it is more common and also more hard to bear."